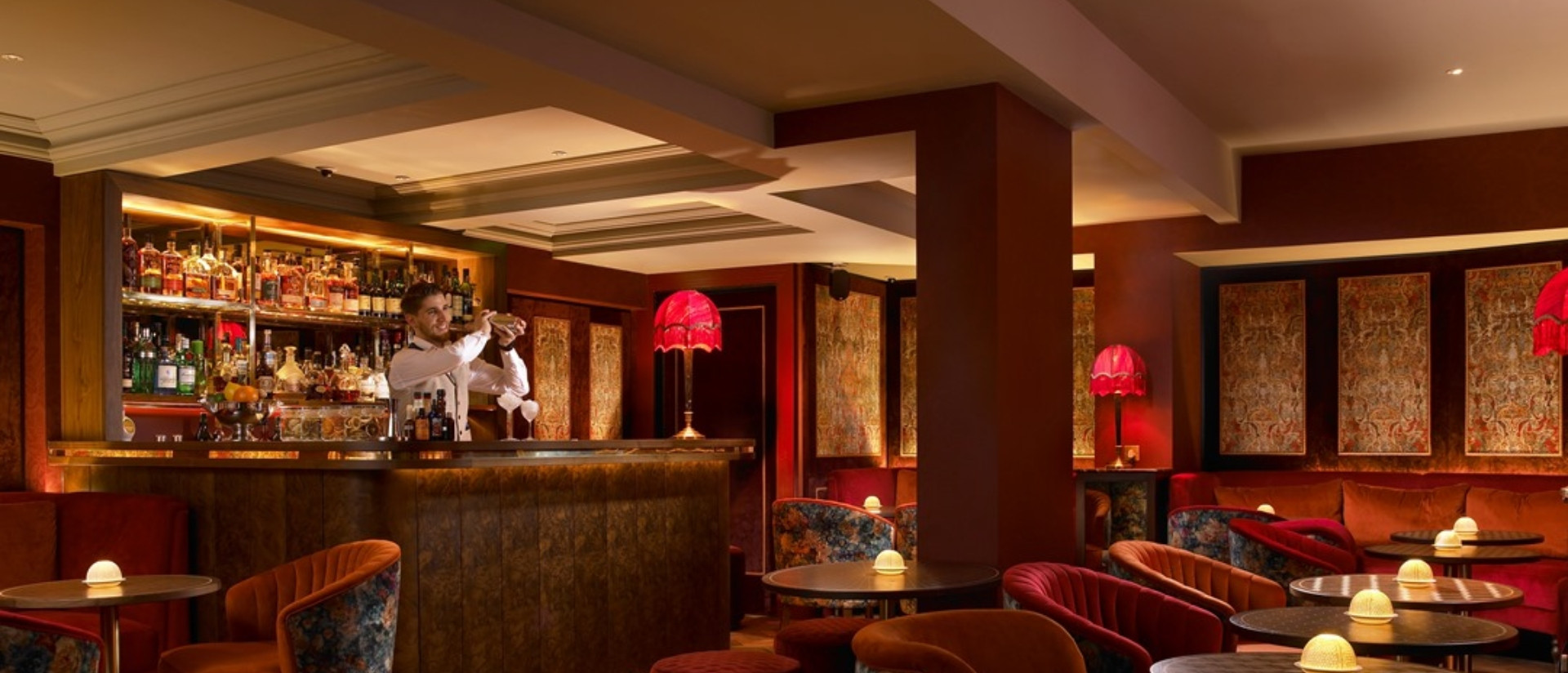 The Ruby Room
Intimate and luxurious, The Ruby Room is Dublin's most beautiful cocktail bar.
Named after Miss Ruby Stokes, matron of the Royal City of Dublin Hospital in the 1920's, her office and bedroom once occupied this exact space in the former nurse's home.
An opulent nod to the Roaring Twenties, with deep sofas, plush fabrics and bespoke furnishings, The Ruby Room is the place to sip, stay and play. Cocooning and clubby, trust our world class mixologists to fix you a knock-out cocktail or classic nightcap while you relax in soulful sophistication.
Monday-Sunday 5.00pm-late
Selection of Royal Sandwiches
Dylan Signature Irish Smoked Salmon
Cucumber Cream Cheese, Capers, Fennel, Brown Bread
Limerick Baked Ham & Aged Cheddar
Homemade Brioche, Fig Compote
Slow Roasted Chicken Fillet Finger Sandwich
Freshly Baked Scones
Vanilla Scented Scones with Sultanas
Devon Clotted Cream, Strawberries & Preserves
Tipsy Inspired Desserts
Orange & Grand Marnier Crème Brulee
Tiramisu With Mascarpone & Amaretto, Espresso Savoiardi
Organic Teas & Infusions
This classic tea combines the sweet, spicy strength and the fresh, fruity note of the bergamot
A wonderful, strong and reviving tea that's full of character. Its refreshing combination of citrus and malty notes make it a perfect tea to be enjoyed throughout the day
Classic black aromatic, medium-bodied tea with a sweet citrus note
Leaves from the high-altitude tea gardens In Yunnan province, China, yield a mild, fruity freshness with a sweet after-taste
Blend of organic citrus from Europe, Africa and South America produce an enlivening tea with a sweet, slightly lemon after-taste
Fruity blend of fresh berries and flower petals combine to deliver a rich flavour, intoxicating aroma and revitalising tea
A well-balanced and subtle blend of fruit, herbs and petals.
Coffees & Chocolates
Cabo Verdean Brewed Coffee
Contains all of the characteristics of a heavy coffee but the cup reveals a much brighter flavour profile containing an acidity of red grapefruit that is balanced by notes of cashew nuts with a milk chocolate finish
Rich shot of espresso with added hot water
Rich shot of espresso, steamed milk, and frothed milk Topped with grated milk chocolate
Rich shot of espresso, steamed milk, and thick milk foam
Chocolates
Cacao Barry milk chocolate melted in hot milk Topped with fresh cream
Dylan Creations
Plymouth Gin, Green Apple, Fresh Lemon Juice, Vanilla Syrup, topped with Pommery Champagne
Beefeater Gin, Strawberry, Fresh Lemon, topped with Casa Gheller Rosé Prosecco
Cucumber & Basil Cocktail
€18
Hendricks Gin, Basil Syrup, Muddled Cucumber
Malfy Blood Orange Gin, Earl Grey Tea Infused Syrup, Lemon Juice
Beefeater Gin, Jameson Black Barrel, Lemon Flavoured Iced Tea
Dingle Gin, Velvet Falernum, Honey, Cucumber & Green Tea Syrup, Fresh Lemon Juice
Havana Club 3-Year-Old Rum, Fresh Wexford Strawberries, Lime Syrup
Martell, Crème de Cacao, Green Chartreuse, Cherry Bitters, Saline Solution
Dylan Classics
Beefeater Gin, Lemon Juice, Sugar, Topped with Pommery Champagne
Plymouth Gin, Cointreau, Raspberry Syrup & Fresh Lemon Juice
Buffalo Trace, Lemon Juice, Aquafaba, Sugar, Angostura, Claret
Buffalo Trace Bourbon Smoked with Cherry Wood & Infused with Orange Bitters Syrup
Pomegranate Margarita
€18
Patron Silver Tequila, Fresh Lemon & Lime Juice
0.0% A.B.V. (NON-ALCOHOLIC)
Orange & Pineapple Juice blended with Fresh Strawberries & Raspberries
Fresh Mint Muddled with Sugar, Crushed Ice, Apple Juice, topped with Ginger Beer
Seedlip Grove 42, Rose Syrup, Plum Bitters, Lime Juice, Celery
Silk Tree, Peach Purée, Watermelon, Lemon Juice
Long Drinks & Perfect Serves
AMAROS, VERMOUTHS & OTHER LIQUEURS
Lillet Blanc, Honey Syrup, Mediterranean Tonic
Royal Oporto White Port, Mediterranean Tonic
Amaro Lucano, Indian Tonic, Orange & Cardamom Bitters
Campari, Martini Rosso, Soda Water
Belsazar Rose, Botanical Tonic
Italicus, Grapefruit Soda
Plymouth Sloe Gin, Fresh Lemon, Sugar, Soda Water
Sparkling Wine
Prosecco
Casa Gheller
€50 Bottle | €13.50 Glass
Casa Gheller, Rosé
€52 Bottle | €15 Glass
Champagne
Pommery
€120.00 Bottle | €24.00 Glass
Perrier Jouët Blason Rosé
€150
Ruinart Blanc de Blancs
€190
Louis Roederer Cristal
€450
Louis Roederer Cristal Rosé
€880
White Wine
François Jamet
€38 Bottle | €9.50 Glass
Flavorini
€40 Bottle | €10.50 Glass
Pouco-Comum
€42 Bottle | €10.50 Glass
Stoneleigh
€46 Bottle | €12 Glass
New Zealand, Sauvignon Blanc
Jean Collet & Fils
€55 Bottle | €13.50 Glass
Sancerre "La Mangellerie"
€55 Bottle | €14.50 Glass
Rosé Wine
Chateau Ballan-Larquette
€46 Bottle | €12 Glass
Whispering Angel
€60.00 Bottle | €16.00 Glass
Château Gassier "Le Pas du Moine" Rosé
€62
Organic - France, Cote de Provence
Red Wine
François Jamet
€38 Bottle | €9.50 Glass
France, Cabernet Sauvignon
Domaine des Allégrets
€40 Bottle | €10.50 Glass
Sierra Cantabria
€45 Bottle | €11.50 Glass
Lupé-Cholet
€48 Bottle | €12 Glass
France, Beaujolais-Villages
Vástago de Gea
€49 Bottle | €12 Glass
Malbec, Mendoza, Argentina
Burgundy (France)
Domaine Simonin Cuvée Vieilles Vignes
€68
Domaine Jean Collet & Fils
€55
Loire Valley (France)
Sancerre "La Mangellerie"
€55
Domaine Tabordet 2020, Pouilly Fumé
CÔTES DE DURAS (France)
Domaine des Allégrets
€40
LANGUEDOC-ROUSSILLON (France)
RIOJA (Spain)
Marques de Murrieta, Castillo Ygay
€595
1986, Gran Reserva Especial
RIAS BAIXAS (Spain)
Marques de Murrieta, La Comtesse
€90
2016, Albariño, Old Vines
VENETO (Italy)
TUSCANY (Italy)
Marchesi di Frescobaldi Castello di Pomino
€38
MINHO (Portugal)
PFALZ (Germany)
Lingenfelder Bird Label
€42
RHEINGAU (Germany)
KAMPTAL (Austria)
LIVERMORE VALLEY (U.S.A.)
MARLBOROUGH (New Zealand)
BORDEAUX (France)
Chateau Ballan-Larquette
€46
PROVENCE (France)
2021, France, Cote de Provence
Château Gassier "Le Pas Du Moine"
€62
2020, Côtes De Provence, Organic
PORT (Portugal)
Royal Oporto
€70 Bottle | €7.50
Royal Oporto
€70 Bottle | €7.50
Quinta da Romaneira
€130 Bottle | €14 Glass