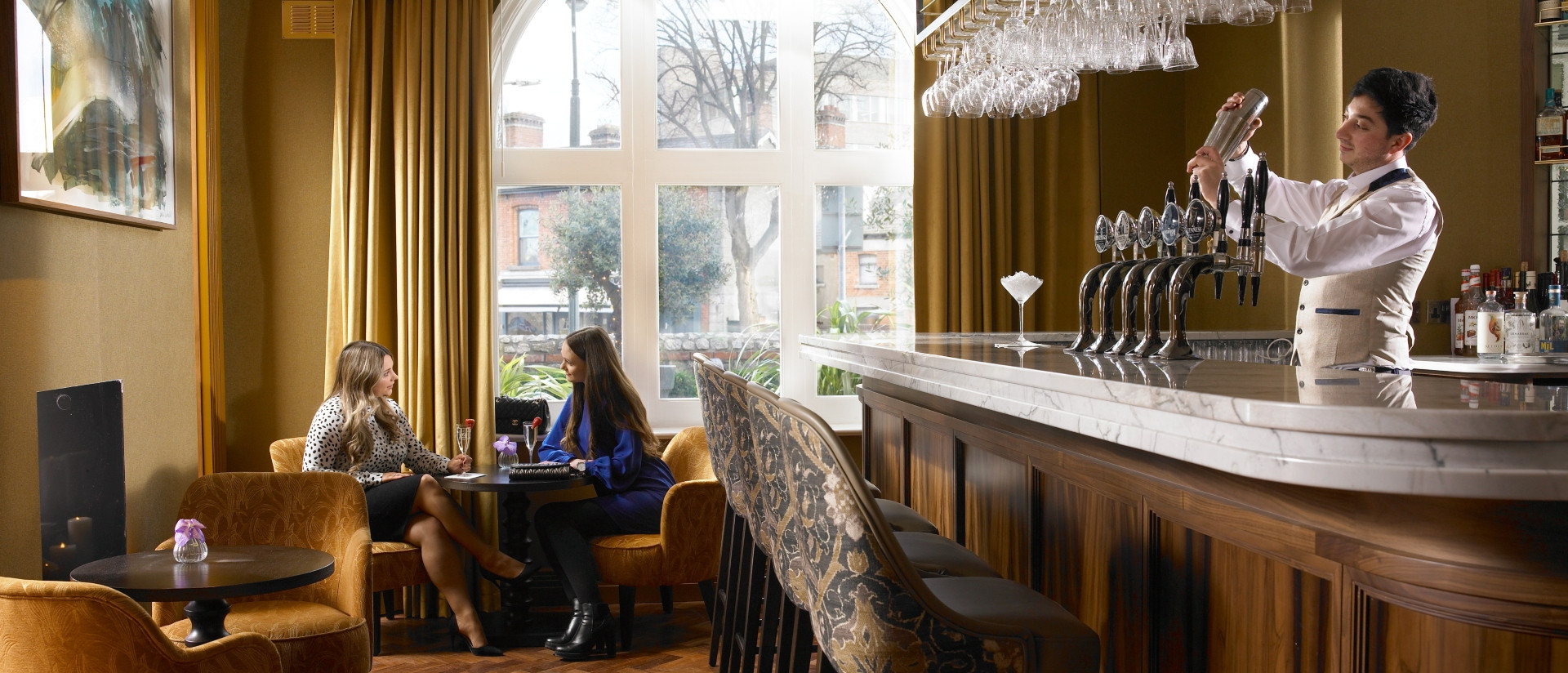 The Dylan Bar
Defined by a timeless sense of style, and an obsession with impeccable service, Dylan Bar is a luxurious retreat for every occasion. An intimate bar with serious Irish design credentials, you'll find sublime drinks, a warm atmosphere and exciting all-day menu. Intimate and stylish, settle into deep sofas and cosy armchairs or pull up a stool and sip your favourite drink at the glamorous bar. A place to relax or reconnect, Dylan Bar is the perfect place for sharing good times with great company. Sláinte!
All-day dining available
Monday-Sunday 12.00pm-10.30pm
FROM ITALIAN CAVIAR FARM ARS ITALICA
Royal Oscietra Caviar, 50g
€240.00
Italian Sturgeon from the Adriatic Sea Takes 10 years to harvest, Served with Traditional Garnishes (When Available)
To Share
Charcuterie & Cheese Platter
€32.00
Selection of Cheese, Charcuterie & Olives Served with Homemade Chutney & A Selection of Bread & Crackers
Salads
Quinoa, Sundried Tomato, Beetroot, Avocado, Cucumber, Radish, Pomegranate & Citrus Dressing (Available with Smoked Tofu, Truffled Chicken, Halloumi and Smoked Salmon).
Add Chicken, Smoked Tofu or Halloumi €6.00
Add Smoked Salmon €7.00
Classic Caesar Salad
€14.00
Smoked Bacon Lardons, Baby Gem, Anchovies, Grated Parmesan Cheese & Croutons
Sandwiches
Dylan Club Sandwich
€17.00
Marinated Chicken Breast, Streaky Bacon, Tomato, Baby Gem Lettuce, Free Range Egg Mayonnaise. Served with French Fries
Irish Smoked Salmon
€16.00
Cucumber Cream Cheese, Pickled Fennel, Guinness Bread Served with Mixed Leaf Salad
Baked Limerick Ham, Dubliner Irish Cheddar, Mustard Mayonnaise on Sourdough Bread Served with French Fries
Streaky Bacon, Dubliner Cheddar Cheese, Tomato, Baby Gem, Red Onion Jam, Smoked Tomato Ketchup, Mustard Mayonnaise on a Toasted Brioche Bun, Served with French Fries
John Stone Steak Sandwich
€22.00
Toasted Sourdough, Sundried Tomatoes, Mustard Aioli, Onion Jam, Served with Parmesan Fries
Starters
Served with Homemade Bread
Wicklow Baun Brie Cheese
€15.00
Chorizo, Apple & Pickled Mustard Seed
Raw Beef Tartar, Shallots, Capers & Gherkins, Truffle Aioli, Shaved Foie Gras Terrine & Potato Crisp
Mussels (Starter / Main)
€14.00 / 20.00
Roaring Water Bay Mussels, White Wine, Shallots, Nduja Sausage & Fresh Cream, Grilled Sourdough
Blue Fin Tuna from World Renowned Balfego
€20.00
Harissa, Coriander, Tomato & Soy
Slow Roasted Pork Belly, Cauliflower, Cider-Soaked Raisins, Granny Smith Apple & Fennel Salad
PASTA AND RISOTTO
Tomato & Ardsallagh Goats Cheese Risotto
€22.00
Saffron, Asparagus, Courgette & Parmesan
Slow Cooked Chorizo & Nduja Sausage Meat Bound in Creamy Tomato Sauce, Handmade Casarecce Pasta & Pecorino
LAND & SEA
Atlantic Hake in Beer Batter, Triple Cooked Chips, Pea & Mint Puree, Classic Tartar Sauce
Courgette, Spring Onion, Garlic, Lemongrass, Galangal & Coconut Broth, Coconut Rice & Shrimp Fritters
Roasted Chicken Breast, Croquette, Asparagus, Broccoli, Mushroom Jus
Aged John Stone Beef Fillet
€44.00
Pressed Potato Hash, Roasted Carrots, Braised Beef Cheek, Black Garlic Aioli
Aged John Stone Beef Bourguignon
€27.00
Slow Roasted Beef Stew Cooked in Red Wine & Aromas, Champ Potatoes & Tender Stem Broccoli
Side Dishes
Seasonal Leaves, Quinoa & Sundried Tomato
Tender Stem Broccoli
€6.50
Desserts
Pistachio & Almond Cake
€10.50
Cazcabel Tequila & Chocolate Mousse
Artisan Cheese Selection
€15.50
Selection of Irish & International Cheese, Crackers & Homemade Chutney
Mango & Passionfruit Cheesecake, Yuzu & Biscuit Crumb
Warm Dark Chocolate Brownie, Vanilla Ice Cream
Liquer Coffees & Hot Alocohol
Hot Drinks
Espresso / Americano
€4.00
Latte / Cappuccino / Double Espresso / Macchiato / Hot Chocolate
€4.50
Pot of Tea
€4.00 (small) / 6.00 (large)
Selection of Royal Sandwiches
Dylan Signature Irish Smoked Salmon
Cucumber Cream Cheese, Capers, Fennel, Brown Bread
Limerick Baked Ham & Aged Cheddar
Homemade Brioche, Fig Compote
Slow Roasted Chicken Fillet Finger Sandwich
Freshly Baked Scones
Vanilla Scented Scones with Sultanas
Devon Clotted Cream, Strawberries & Preserves
Tipsy Inspired Desserts
Orange & Grand Marnier Crème Brulee
Tiramisu With Mascarpone & Amaretto, Espresso Savoiardi
Organic Teas & Infusions
This classic tea combines the sweet, spicy strength and the fresh, fruity note of the bergamot
A wonderful, strong and reviving tea that's full of character. Its refreshing combination of citrus and malty notes make it a perfect tea to be enjoyed throughout the day
Classic black aromatic, medium-bodied tea with a sweet citrus note
Leaves from the high-altitude tea gardens In Yunnan province, China, yield a mild, fruity freshness with a sweet after-taste
Blend of organic citrus from Europe, Africa and South America produce an enlivening tea with a sweet, slightly lemon after-taste
Fruity blend of fresh berries and flower petals combine to deliver a rich flavour, intoxicating aroma and revitalising tea
A well-balanced and subtle blend of fruit, herbs and petals.
Coffees & Chocolates
Cabo Verdean Brewed Coffee
Contains all of the characteristics of a heavy coffee but the cup reveals a much brighter flavour profile containing an acidity of red grapefruit that is balanced by notes of cashew nuts with a milk chocolate finish
Rich shot of espresso with added hot water
Rich shot of espresso, steamed milk, and frothed milk Topped with grated milk chocolate
Rich shot of espresso, steamed milk, and thick milk foam
Chocolates
Cacao Barry milk chocolate melted in hot milk Topped with fresh cream
Dylan Creations
Plymouth Gin, Green Apple, Fresh Lemon Juice, Vanilla Syrup, topped with Pommery Champagne
Beefeater Gin, Strawberry, Fresh Lemon, topped with Casa Gheller Rosé Prosecco
Cucumber & Basil Cocktail
€18
Hendricks Gin, Basil Syrup, Muddled Cucumber
Malfy Blood Orange Gin, Earl Grey Tea Infused Syrup, Lemon Juice
Beefeater Gin, Jameson Black Barrel, Lemon Flavoured Iced Tea
Dingle Gin, Velvet Falernum, Honey, Cucumber & Green Tea Syrup, Fresh Lemon Juice
Havana Club 3-Year-Old Rum, Fresh Wexford Strawberries, Lime Syrup
Martell, Crème de Cacao, Green Chartreuse, Cherry Bitters, Saline Solution
Dylan Classics
Beefeater Gin, Lemon Juice, Sugar, Topped with Pommery Champagne
Plymouth Gin, Cointreau, Raspberry Syrup & Fresh Lemon Juice
Buffalo Trace, Lemon Juice, Aquafaba, Sugar, Angostura, Claret
Buffalo Trace Bourbon Smoked with Cherry Wood & Infused with Orange Bitters Syrup
Pomegranate Margarita
€18
Patron Silver Tequila, Fresh Lemon & Lime Juice
0.0% A.B.V. (NON-ALCOHOLIC)
Orange & Pineapple Juice blended with Fresh Strawberries & Raspberries
Fresh Mint Muddled with Sugar, Crushed Ice, Apple Juice, topped with Ginger Beer
Seedlip Grove 42, Rose Syrup, Plum Bitters, Lime Juice, Celery
Silk Tree, Peach Purée, Watermelon, Lemon Juice
Long Drinks & Perfect Serves
AMAROS, VERMOUTHS & OTHER LIQUEURS
Lillet Blanc, Honey Syrup, Mediterranean Tonic
Royal Oporto White Port, Mediterranean Tonic
Amaro Lucano, Indian Tonic, Orange & Cardamom Bitters
Campari, Martini Rosso, Soda Water
Belsazar Rose, Botanical Tonic
Italicus, Grapefruit Soda
Plymouth Sloe Gin, Fresh Lemon, Sugar, Soda Water
Sparkling Wine
Prosecco
Casa Gheller
€50 Bottle | €13.50 Glass
Casa Gheller, Rosé
€52 Bottle | €15 Glass
Champagne
Pommery
€120.00 Bottle | €24.00 Glass
Perrier Jouët Blason Rosé
€150
Ruinart Blanc de Blancs
€190
Louis Roederer Cristal
€450
Louis Roederer Cristal Rosé
€880
White Wine
François Jamet
€38 Bottle | €9.50 Glass
Flavorini
€40 Bottle | €10.50 Glass
Pouco-Comum
€42 Bottle | €10.50 Glass
Stoneleigh
€46 Bottle | €12 Glass
New Zealand, Sauvignon Blanc
Jean Collet & Fils
€55 Bottle | €13.50 Glass
Sancerre "La Mangellerie"
€55 Bottle | €14.50 Glass
Rosé Wine
Chateau Ballan-Larquette
€46 Bottle | €12 Glass
Whispering Angel
€60.00 Bottle | €16.00 Glass
Château Gassier "Le Pas du Moine" Rosé
€62
Organic - France, Cote de Provence
Red Wine
François Jamet
€38 Bottle | €9.50 Glass
France, Cabernet Sauvignon
Domaine des Allégrets
€40 Bottle | €10.50 Glass
Sierra Cantabria
€45 Bottle | €11.50 Glass
Lupé-Cholet
€48 Bottle | €12 Glass
France, Beaujolais-Villages
Vástago de Gea
€49 Bottle | €12 Glass
Malbec, Mendoza, Argentina
Burgundy (France)
Domaine Simonin Cuvée Vieilles Vignes
€68
Domaine Jean Collet & Fils
€55
Domaine Laroche, Les Blanchots Grand Cru
€140
Loire Valley (France)
Sancerre "La Mangellerie"
€55
Domaine Tabordet 2020, Pouilly Fumé
CÔTES DE DURAS (France)
Domaine des Allégrets
€40
LANGUEDOC-ROUSSILLON (France)
RIOJA (Spain)
Marques de Murrieta, Castillo Ygay
€595
1986, Gran Reserva Especial
RIAS BAIXAS (Spain)
Marques de Murrieta, La Comtesse
€90
2016, Albariño, Old Vines
VENETO (Italy)
TUSCANY (Italy)
Marchesi di Frescobaldi Castello di Pomino
€38
MINHO (Portugal)
PFALZ (Germany)
Lingenfelder Bird Label
€42
RHEINGAU (Germany)
KAMPTAL (Austria)
LIVERMORE VALLEY (U.S.A.)
MARLBOROUGH (New Zealand)
BORDEAUX (France)
Chateau Ballan-Larquette
€46
PROVENCE (France)
2021, France, Cote de Provence
Château Gassier "Le Pas Du Moine"
€62
2020, Côtes De Provence, Organic
PORT (Portugal)
Royal Oporto
€70 Bottle | €7.50
Royal Oporto
€70 Bottle | €7.50
Quinta da Romaneira
€130 Bottle | €14 Glass