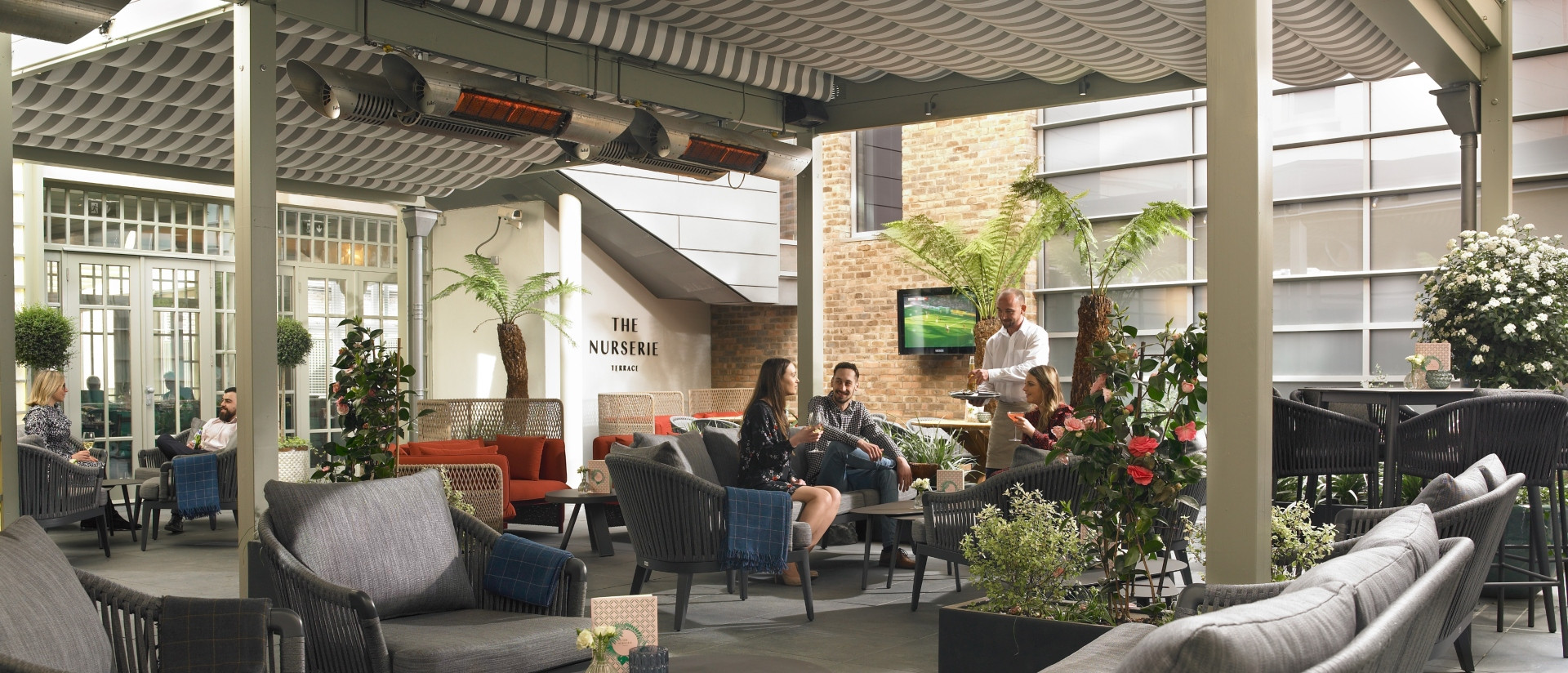 The Nurserie
Al fresco and utterly private, The Nurserie is our secret south-facing courtyard that's been styled for good times. A decadent urban oasis, this chic, sleek sun trap hosts Dublin's best private barbecues, parties, and drinks receptions. Cocktails, canapés and cool tunes are all on the menu, and there's a stylish canopy and heaters to ensure the weather doesn't interfere with your special celebration.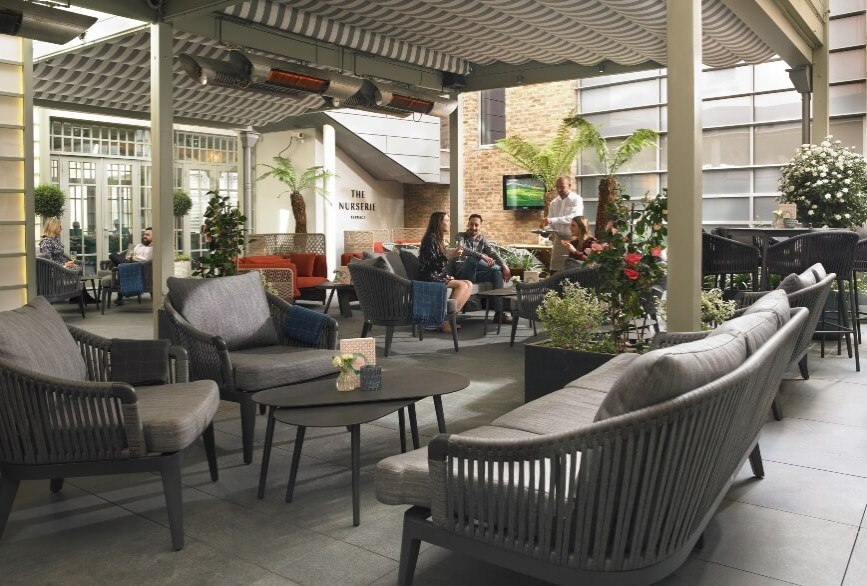 Create Wonderful Memories Celebrations & Occasions
Enquire about our Meetings & Events facilities here at The Dylan.
BBQ Menu
Land, Sea & Garden
Irish Beef Burger, red onion & brioche bun
Grilled Salmon Fillet, sun dried tomato salsa Verde
Char Siu slow roasted duck leg, sesame & wasabi
Chipotle & Lime glazed chicken breast, carrot & sesame slaw
Charred pork & leek sausage, mustard mayonnaise
Beef Fillet minute steak with chimichurri
Soy glazed smoked Tofu, coriander & chilli
Char grilled Haloumi, roast pepper & courgette
Cauliflower steak with Cashel blue cheese
Salads
Caesar salad, croutons, bacon lardon & parmesan
New potato salad with honey, mustard & spring onion
Roast pepper, aubergine & courgette tabbouleh with mint & coriander
Marinated tomato with basil & red onion
Greek pasta salad, feta cheese, marinated olives, tomato, cucumber & baby spinach
Super salad, quinoa, black rice, pomegranate, sun dried tomato & pumpkin seeds
Watermelon, fetta & mint salad
Sides
Smoked paprika fries with blue cheese dressing
Baked potatoes with sour cream & spring onion
Buttermilk fried onion rings
Roasted corn with smoked paprika butter
Courgette fritters with smoked tomato ketchup
Triple cooked chips & parmesan
Add-Ons
(Optional. Subject to market prices & availability)
John stone bistro steak, truffle & grilled shitake mushroom
Grilled Half Irish Lobster, lemon thermidor sauce
Iberico ham burger with capers & gherkin sauce
Lamb cutlets with mint chimichurri
Scallops cooked in the half shell, gin, apple & lime
Sweets
Dessert platter (serves 6)
€30.00
Mini chocolate brownies, Lemon curd tarts & Chocolate dipped strawberries
Fruit Platter (serves 6)
€25.00
Selection of fresh fruit & berries
Crushed meringue, crème Chantilly, mixed berries
Mango & Passionfruit Cheesecake, Yuzu & Biscuit Crumb
Chocolate brownie, ice cream, whipped cream & chocolate sauce
Cold Canapes - €5.00 each
Cashel blue cheese & confit red onion tart
Smoked Irish salmon on soda bread & lemon dressing
Clogherhead crab salad, seaweed & Guinness bread
Ardsallagh goats cheese & smoked iona farm beetroot tart
Duck liver parfait on brioche with house chutney
Smoked chicken & truflle remoulade, brioche & onion
Yellow fin tuna tartar, avocado, soy & sesame dressing
Hot Canapes - €6.50 each
Marinated Chicken & black garlic pasty
Lamb Kofta with taziki dressing
King scallop wrapped in parma ham
Seared beef fillet on warm butter brioche with horseradish
Ardsallagh Goats cheese, garden pea & black pudding quiche
Tiger prawn tempura with wasabi & pickled seaweed
Confit duck cigar, pommery mustard aioli
Chicken skewer with lemon & ginger
Baked Ham & cheddar cheese arancini
Mini fish cake with coriander, chilli & lime
Pork, black pudding & apple sausage roll, smoked tomato ketchup
Finger Food
Minimum order of 10 pieces per item
€5 per item per person
with avocado puree and prawn cracker
Mini Tandoori Chicken wraps
Garden Salad with quinoa and citrus pesto
€8 per item per person
Vegetarian "fish & chips"
Desserts
€4 per item per person
Sparkling Wine
Prosecco
Casa Gheller
€50 Bottle | €13.50 Glass
Casa Gheller, Rosé
€52 Bottle | €15 Glass
Champagne
Pommery
€120.00 Bottle | €24.00 Glass
Perrier Jouët Blason Rosé
€150
Ruinart Blanc de Blancs
€190
Louis Roederer Cristal
€450
Louis Roederer Cristal Rosé
€880
White Wine
François Jamet
€38 Bottle | €9.50 Glass
Flavorini
€40 Bottle | €10.50 Glass
Pouco-Comum
€42 Bottle | €10.50 Glass
Stoneleigh
€46 Bottle | €12 Glass
New Zealand, Sauvignon Blanc
Jean Collet & Fils
€55 Bottle | €13.50 Glass
Sancerre "La Mangellerie"
€55 Bottle | €14.50 Glass
Rosé Wine
Chateau Ballan-Larquette
€46 Bottle | €12 Glass
Whispering Angel
€60.00 Bottle | €16.00 Glass
Château Gassier "Le Pas du Moine" Rosé
€62
Organic - France, Cote de Provence
Red Wine
François Jamet
€38 Bottle | €9.50 Glass
France, Cabernet Sauvignon
Domaine des Allégrets
€40 Bottle | €10.50 Glass
Sierra Cantabria
€45 Bottle | €11.50 Glass
Lupé-Cholet
€48 Bottle | €12 Glass
France, Beaujolais-Villages
Vástago de Gea
€49 Bottle | €12 Glass
Malbec, Mendoza, Argentina
Burgundy (France)
Domaine Simonin Cuvée Vieilles Vignes
€68
Domaine Jean Collet & Fils
€55
Loire Valley (France)
Sancerre "La Mangellerie"
€55
Domaine Tabordet 2020, Pouilly Fumé
CÔTES DE DURAS (France)
Domaine des Allégrets
€40
LANGUEDOC-ROUSSILLON (France)
RIOJA (Spain)
Marques de Murrieta, Castillo Ygay
€595
1986, Gran Reserva Especial
RIAS BAIXAS (Spain)
Marques de Murrieta, La Comtesse
€90
2016, Albariño, Old Vines
VENETO (Italy)
TUSCANY (Italy)
Marchesi di Frescobaldi Castello di Pomino
€38
MINHO (Portugal)
PFALZ (Germany)
Lingenfelder Bird Label
€42
RHEINGAU (Germany)
KAMPTAL (Austria)
LIVERMORE VALLEY (U.S.A.)
MARLBOROUGH (New Zealand)
BORDEAUX (France)
Chateau Ballan-Larquette
€46
PROVENCE (France)
2021, France, Cote de Provence
Château Gassier "Le Pas Du Moine"
€62
2020, Côtes De Provence, Organic
PORT (Portugal)
Royal Oporto
€70 Bottle | €7.50
Royal Oporto
€70 Bottle | €7.50
Quinta da Romaneira
€130 Bottle | €14 Glass